Live - for everybody - open-air and free of charge in Kiel's most beautiful center
Bootshafensommer
From July 21 - August 27, 2023, the 15th Bootshafensommer will take place in the heart of Kiel's city center. On six weekends, visitors can look forward to a variety of live music and different theme days every Friday and Saturday between 15:00 and 22:00. The stage program and our complete program flyer can be found further down on this page.
Artists from a variety of genres from punk to classical to reggae provide the soundtrack to summer for every taste in front of a maritime backdrop - here is the audio sample. The organizers of Kiel-Marketing attach great importance to a wide range of music - and make it possible for newcomers from Kiel as well as nationally known acts to have a stage in a unique location. The catering partners Dean&David, Cup&Cino, Forstbaumschule and many more will spoil the guests with culinary delights and summery cold drinks.
Starting July 21, it's on again!
These cultural and musical highlights await you
Bootshafensommer meets 1001 Events
Pumpfoil Festival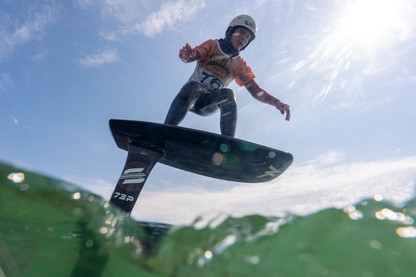 Flying weightlessly over the water with your surfboard. That's what makes pumpfoiling so addictive. On July 22, the professionals of this still young, but trendy, water sport will compete in three spectacular disciplines. The pumpfilers will compete against each other in a sprint duel, a freestyle contest and an obstacle parkour, ensuring exciting entertainment on the water. For all those interested, the partners of the Pumpfoil Festival will exhibit their latest equipment and will be happy to answer all your questions about pumpfoiling. Starting signal is 11:00 am!
The Musico e.V. let it rip!
What belongs together, grows together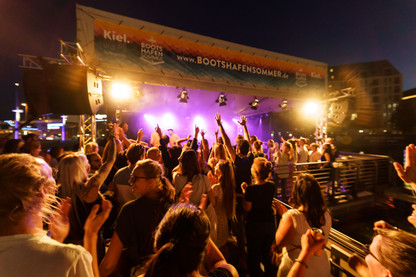 For over 30 years, the Musico e.V. association has been committed to Kiel's local music scene. The initiative supports, promotes and inspires its members for the most beautiful hobby in the world - music from all genres. The association offers rehearsal possibilities in the meanwhile three music rehearsal centers, organizes different events and workshops and thus networks old and young music generations. The members are actively involved in all areas in order to tackle challenges and implement new ideas. Because as the statutes say: "The association is what its members make of it."
In search of the king
Poetry Slam with and by Assemble Art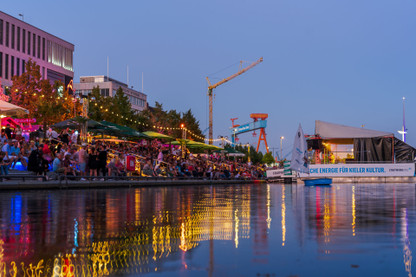 Spoken word in the finest execution. Texts - if you were a house - more elaborate, detailed and epochal than the Sagrada Familia. Assemble Art will present you the finest of their repertoire at the Poetry Slam on August 12 and you decide who will be the king of epic word juggling!
Guest at the Bootshafen
School of Rock Timmendorfer Strand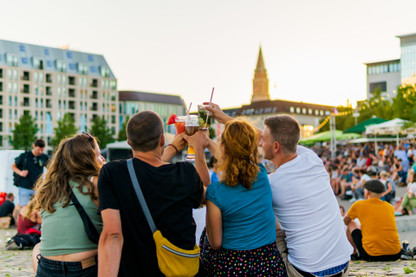 A music school that not only offers traditional music lessons in guitar, bass and drums, but also provides support and training for bands. Here talented musicians get the opportunity to grow together as a band and develop their skills. A special emphasis is placed on live performances, where the bands can perform in various clubs, festivals and even tours in Germany and beyond. This offers students the valuable experience of playing in front of an audience and improving their performance skills.
For more information, click here.
For the Schleswig-Holstein Cancer Society e.V.
Charity weekend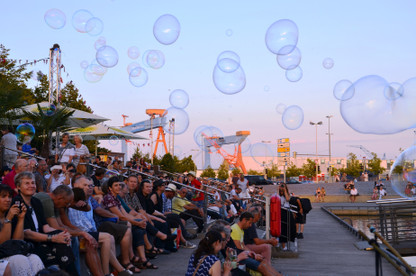 When you return your cups and glasses on August 25 and 26, you can simply waive the deposit on their cups and donate to the good cause. Our restaurateurs will round up the collected amount by another 1000€. Deposit good, beer good, everything good! The Schleswig-Holstein Cancer Society (Schleswig-Holsteinische Krebsgesellschaft e.V. ) supports people who are confronted with cancer. The non-profit, donation-funded association has been working to improve care for people with cancer in Schleswig-Holstein since 1953. All services are free of charge for those affected and are financed entirely by donations.
For the project "Vegetable Academy: Farming Creates Knowledge!"
17. Kiel duck race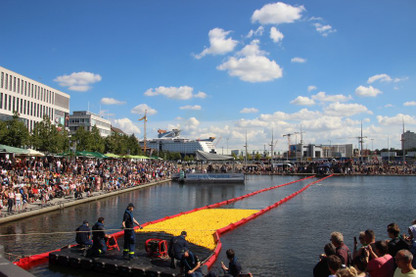 At the Kiel Duck Race, numbered yellow swimming ducks are released together into the freedom of Kiel's boat harbor on August 27 . The ducks will race against each other for first place on a set course. The owners of the fastest ducks will win great prizes as well as a lot of fun. On the duck ready go!
For more information about the duck race and where to buy your ticket number, click here.
Supported by Color Line
The Summer Festival of the Kiel Foreign Associations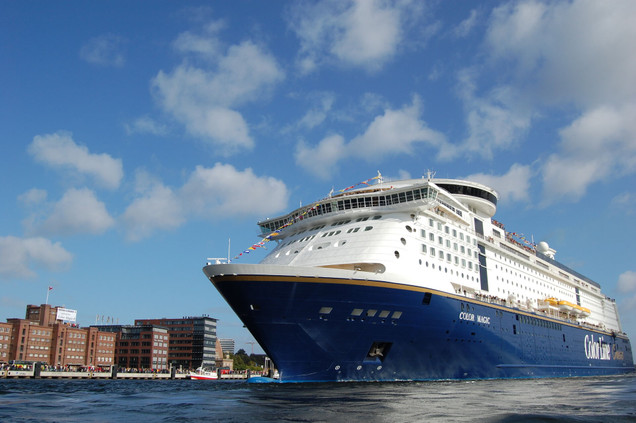 On August 5 , the Arbeitsgemeinschaft Kieler Auslandsvereine moves into our festival pagodas on the waterfront terrace of the boat harbor with colorful and multicultural diversity. Starting at 3:00 p.m., the summer festival of Kiel's foreign associations - AKA for short - will delight visitors with culinary specialties, country-specific dancing and singing, and exciting facts about the various countries and communities. Associations from China, Japan, Ukraine, America, Russia, Ghana, Poland and Nigeria are also taking part. The ZBBS e.V. is the facilitator and cooperation partner.
As a further strong partner and in the sense of the connecting peaceful thought Color Line supports this year the summer celebration of the AKA. Color Line is Norway's largest shipping company in international passenger and freight traffic to and from Norway and is one of the leading shipping companies in European short-haul shipping.
Sweepstake
Fill out the form and win a mini cruise for 2 from Kiel to Oslo and back!
Program Flyer
For more information on our cultural and musical highlights, please see our Program Flyer: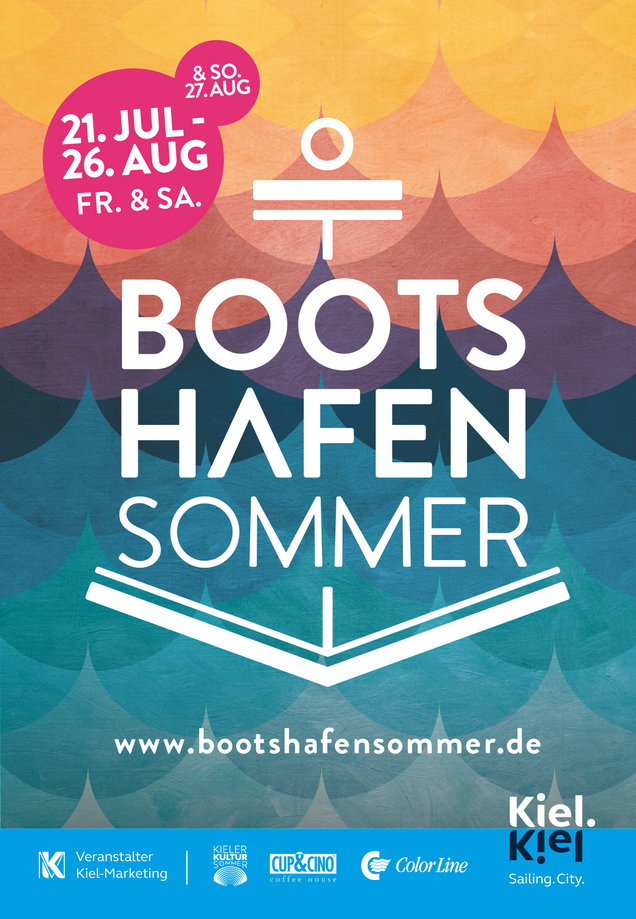 Directions
The boat harbor is centrally located in the heart of Kiel and can be easily reached by bus, bicycle, car or on foot.
Your contact persons