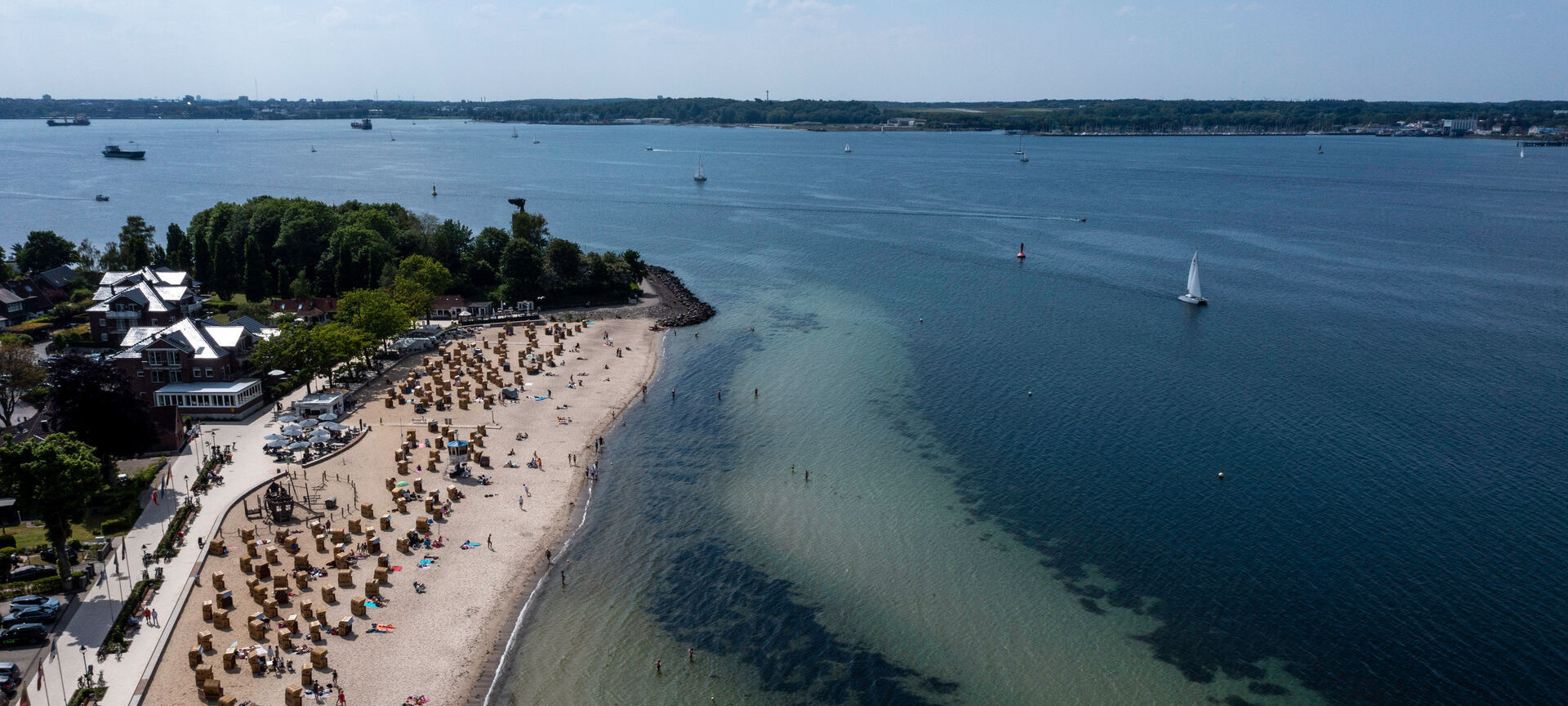 Fjord Sites
The Förde ferry line F1 takes you to the pretty Förde villages of Mönkeberg and Heikendorf, from where you have a great view of the passing ships on the Kiel Fjord, and to Kiel. Relax in one of the family-friendly beach bays, treat yourself to an ice cream or enjoy a delicious fish roll directly from the cutter in the fishing port of Heikendorf. The tourist information office in Heikendorf will be happy to provide you with information about other excursion destinations.
Mönkeberg
If you take the ferry to Mönkeberg, you will land at three small, family-friendly beach bays that invite you to swim. Behind the beach bays lies the idyllic marina with its tiny lighthouse, the "Julius Tower". If you follow the Fjord Hiking Trail, you can walk along the fjord via Kitzeberg and Heikendorf to Laboe.
Baltic resort Heikendorf
Only a ferry ride away from the city of Kiel, on the sunny side of the fjord, the Baltic seaside resort Heikendorf awaits you. The most beautiful spots are strung along the shoreline like pearls on a string: the sun terrace on the beach, the pier at the fishing port or the submarine memorial on a headland at the narrowest point of the Fjord.
Schilksee
This fjord town radiates Olympic flair! Schilksee is a district in the north of Kiel and is an absolute sailing hotspot. The sailing harbor was created in the course of the sailing competitions of the Olympic Games in 1972 and is one of the largest sailing harbors on the German east coast.
Strande
The charming atmosphere of the former fishing village has been preserved to this day and will captivate you with the fishing pier, the harbor, the lighthouse, the steep coast, the bathing beach, the newly designed beach promenade and a diverse gastronomic scene.
Laboe
At this place you can immerse yourself in naval history. Visit the submarine museum, where you can admire an original submarine from the inside and outside. Or stroll along the promenade and stop at one of the nice restaurants.
Art at the Beach
The municipality of Heikendorf not only attracts visitors with its beautiful beach, cozy beach shacks and picturesque sunsets - here, art enthusiasts can also embark on an inspiring discovery tour...
A Day in Heikendorf
In Heikendorf you can spend a very special day, but also a very special night: In a sleeping beach chair directly at the Möltenort beach. A unique experience that will stay in your memory for a long time. The vacationers Lene and Laura have tested it...