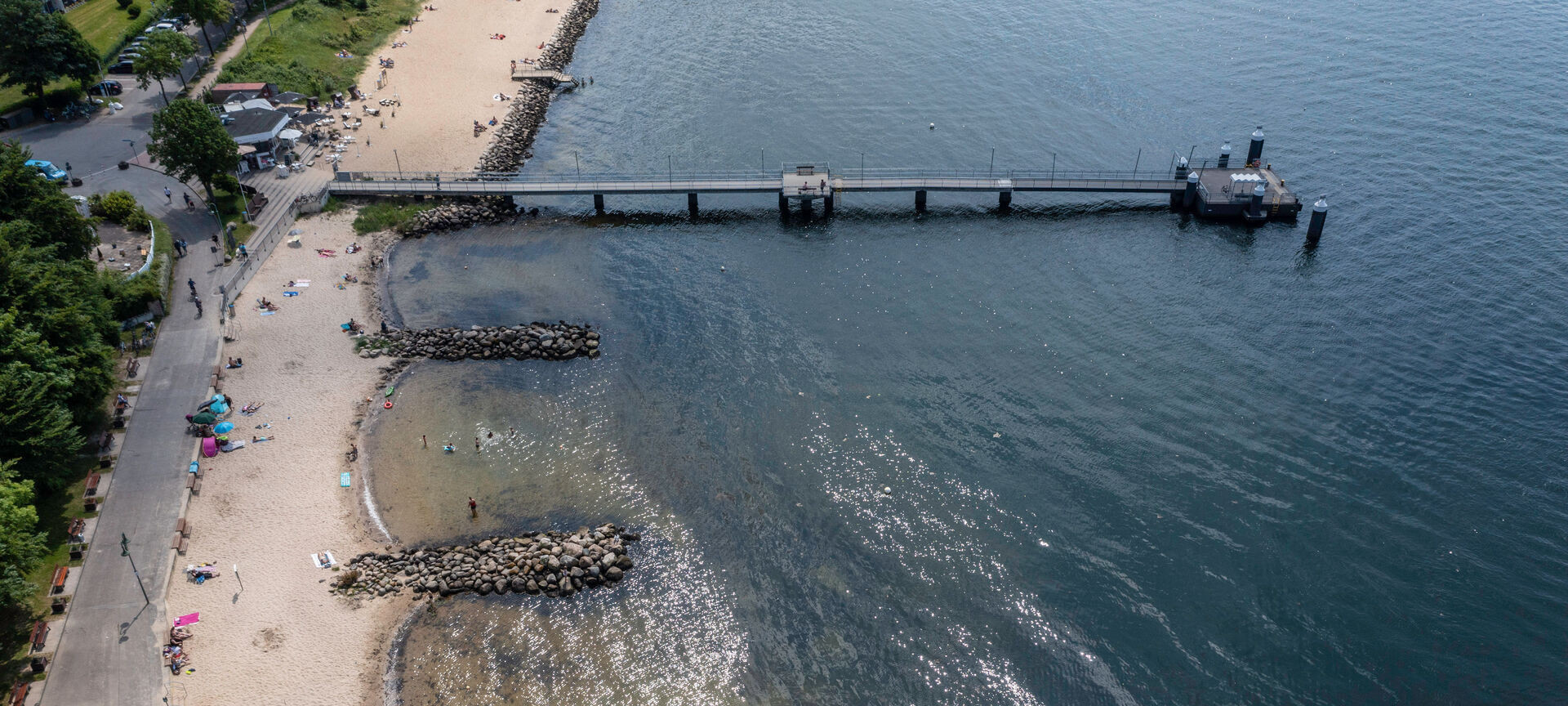 Mönkeberg
Idyllic harbor and family-friendly beach: If you take the ferry to Mönkeberg, you will land at three small, family-friendly beach bays that invite you to swim. Behind the beach bays is the idyllic sport boat harbor with its tiny lighthouse, the "Juliusturm". If you follow the Fjord Hiking Trail, you can walk along the fjord via Kitzeberg and Heikendorf to Laboe.
Overnight stay at the Kiel Fjord
Walk and stroll
The Baltic Coast Cycle Route also takes you through beautiful Mönkeberg. If you like to linger a moment and let your eyes wander over the Kiel Fjord, you should visit the lookout points on the Ölberg in the direction of Kiel or the Germaniakoppel above the harbor.
Beach
Just a few steps away from the sports harbor, a sandy beach to the left and right of the jetty provides the backdrop for beautiful beach days and refreshing swims in the sea. On the quiet beach you can enjoy the sun and the sea without worries and for children it offers enough space to play and discover.
Active
Along the beach, as well as in Heikendorf, the Fördewanderweg and the Ostseeküstenradweg lead, on which the direct proximity to the sea can be enjoyed. If you would like to rest for a moment or let your gaze wander over the Kiel Fjord, you should literally get off the beaten path and visit the vantage points on the Ölberg in the direction of Kiel or the Germania- koppel above the harbor.
Experience nature
In the upper village, it is worth taking a walk through the Mönkeberger See nature reserve. Signs will guide you through the area, which is richly populated by flora and fauna, to the observation post at the lake. With a bit of luck and patience, you can catch a glimpse of the area's animal inhabitants on this tour. Guided tours are also offered there regularly.
Tipps for children
During the summer months, every Friday at 4 p.m. from June 16 to August 18, there will be a reading on Möltenort Beach, initiated by the municipal library. Here you can find more information as soon as the action starts.