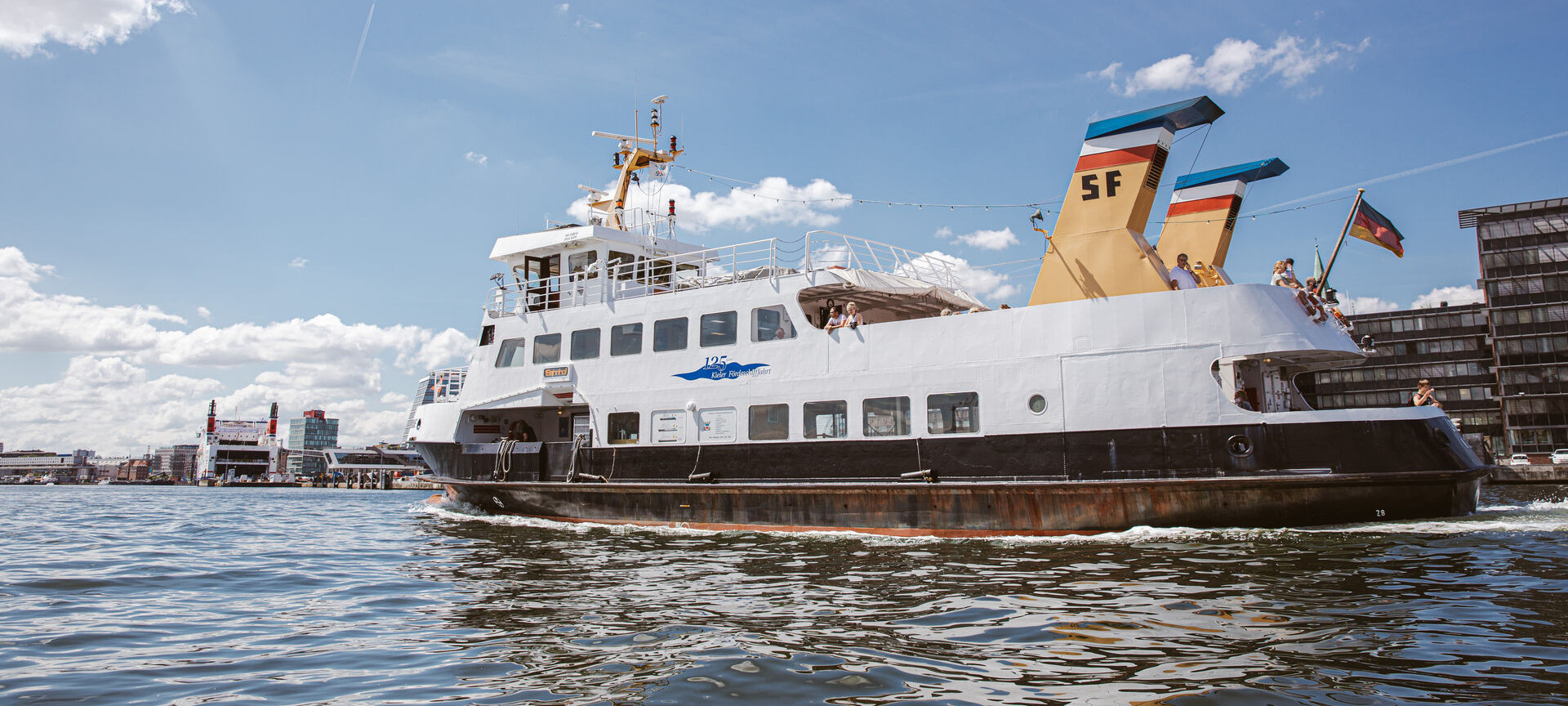 Hop on board!
Let`s go on a harbor tour
Seagulls circle and screech, the wind ruffles hair, and every now and then the muffled horn of the "Schilksee" sounds when a sailboat strays into its channel. On board the 27-meter-long ferry steamer "Schilksee" there is room for almost 250 people to explore Kiel from the water during a harbor tour. During the season from May to October, the steamer departs three times a day from the pier at the train station and takes tourists and locals across the Kiel Fjord for two hours.
On the ferry trip there is not only a lot to see, but also a lot to learn. The captain himself tells his guests the history of every lighthouse, every pier, every building and every port. He talks in typical North German and provides the guests on board with amusing anecdotes that cannot be found in any travel guide. The panoramic view from the sundeck is hard to beat and offers a clear view to port and starboard. Sufficient refreshment in the form of coffee and cake, cold drinks and hearty snacks as well as shelter in case of bad weather is provided in the ship's salon.
By boat from the train station to the dream beach in 60 minutes
The tour starts at the pier directly opposite Kiel's main train station. From here, the entire Kiel Fjord is explored during the harbor tour. Passing Kiel's landmarks, such as the distinctive cranes of the former HDW shipyard and the buildings of the sea fish market, the ferry steamer sets course for the white wide sandy beach of Laboe. On the way there, there is much to discover: the villa area of Kitzeberg with its picturesque thatched-roof houses, the old fishing port of Möltenort or the Friedrichsort lighthouse.
Once in Laboe, it is worth getting off for a walk to the museum submarine or a fish sandwich in Labo harbor. The captain turns around in front of the Laboe coast with its impressive naval memorial. On the way back, the "Schilksee" chugs past Holtenau at a leisurely 20 kilometers per hour. Here you will find the famous little lighthouse, the old sailing ships at Thiessenkai, the bright orange pilot ship or the huge locks of the Kiel Canal - highlights as far as the eye can see.
The grand finale of the trip is Kiel's promenade, the Kiellinie, with its restaurants, green spaces inviting picnics and, of course, the Schleswig-Holstein state parliament. In good weather, many Kiel residents and visitors gather here to feast on ice cream or fish sandwiches, jump into the fjord to cool off, or simply enjoy Kiel's maritime flair and the sea air.
When the steamer then moors at the station pier again and you set foot on the mainland for the first time, it can still rock a little bit with one or the other - a nice memory!